Mission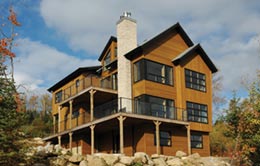 An energy-efficient cabin in the Charlevoix region: Life under nature's charms
A green holiday home that does not compromise on comfort? This is the challenge a young couple took up in the Charlevoix region...
It all started in 2006 when Sylvie Faria and Etienne Beauregard fell in love with the area overlooking the municipality of Petite-Rivière-Saint-François. That was all it took to charm the young couple, who dreamed of building a cabin in the Charlevoix region with sustainable development in mind.
"We were looking for a holiday home that would be located in the heart of nature. With our three children, we like to practice a lot of outdoor activities, both in the summer and winter", says Sylvie. "This project perfectly fitted our needs. Moreover, it allowed us to temporarily rent our cabin during the times of year we would not use it.
Etienne and Sylvie bought their 33,000 sq. feet piece of land in 2007 with the objective of building a two-unit structure while maintaining the greatest care for the environment. "In our daily lives, we try our best to limit our impact on the environment" says Etienne. "We did not intend to compromise on our principles! At the same time, we wanted a comfortable place, where people would enjoy a warm atmosphere and feel really at home". Etienne and Sylvie started looking for an architect who could realize their dream; that person was Jean-François Julien from Cardin-Ramirez-Julien architects.
An exemplary project
"When Etienne and Sylvie came to see me, I was immediately enthusiastic about their project" says Mr. Julien. "To me, a green construction constitutes a great value added to any project. Our firm is used to working with clients for whom sustainable development is an integral part of their project. I am a LEED accredited architect, and therefore place a lot of importance on the optimization of strategies so as to meet the environmental goals of my clients. I must however confess that not all customers are as 'green' as Sylvie and Etienne. From the start it was clear to them that their project would be exemplary!"
The project took the form of a duplex, in which both spacious, all-equipped units were designed in a way such that each could host a family without its members feeling crowded. From the living rooms you can enjoy a stunning view over the river and the Massif. To add to this mountain charm there is a wood-burning fireplace in each unit.
"We wanted to ensure optimal energy use. For heating we chose a geothermal system" says Etienne. "A heat conductor liquid, combined with a geothermal heat pump, circulates through radiant slate and natural marmoleum floors. We also put in a wastewater heat recovery system".
In terms of materials, these had to be as environment-friendly as possible. "Whenever possible we used materials from Quebec, such as roasted wood from the Saguenay region for the exterior walls of the cabin" says Sylvie. "The aluminum windows and wooden framings are also manufactured in Quebec. The sceptic system is a Bionest™. The paint does not contain any VOCs (Volatile Organic Compounds), the bathroom tiles are made of recycled materials and the toilets permit full and partial flushes. All the furniture was made by Quebec manufacturers".
The construction, which started in 2007, came to an end in the fall of 2008 and the owners are rightly proud of the result. The duplex is not only a success in terms of eco-construction but also a very pleasant living space. "The air is particularly healthy and the warmth of the radiant floors will be very appreciated by our winter guests. At the start, when we told our relatives we were thinking of building a green construction, some thought we were insane! Today, everyone recognizes that it was worth it. Of course, it is difficult to build something by respecting both one's values and budget, but it also is a very stimulating challenge. You find the means to make things happen" says Etienne.
Today, the cabin welcomes vacationers all year round. "All we need to do at this point is to continue to plant more trees" adds Sylvie. Indigenous species, obviously!
Text written by Catherine Flores, communication consultant